To: The United Nations special reporter on the situation of human rights in the Islamic Republic of Iran
August 23,2019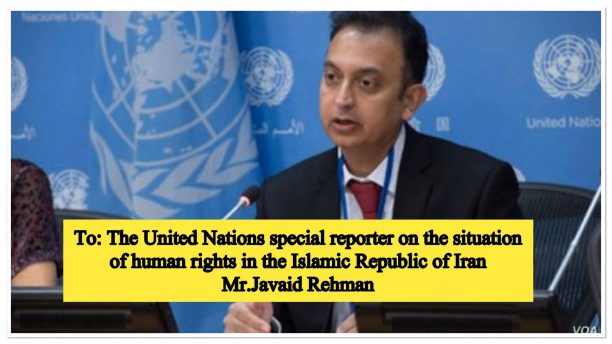 Dear Mr. Javaid Rehman

First of all, thank you very much for your specific attention to the issue of Azerbaijani Turk human rights violations in Iran, and also for the requested report from our organization, AHRAZ.
We would like to offer a few notes on your latest report that we belie will make your reporting more effective in the future. To begin with, the Azerbaijani Turks mostly do not refer to themselves "Azeri" due to the political and historical implication of the term. The "Azeri" term is mainly used by Persian mainstream media and is deliberately employed to suppress the political demands of Azerbaijani Turk activists. We think it is important to respect the way local communities refer to themselves and to be cognizant of state efforts to suppress Turkish identity. In Iran most all Azerbaijani Turk simply call themselves "Turks". We suggest you use the terms "Azerbaijani Turk" or "Turk."
Also, the report indicated that the population of Azerbaijani Turks in Iran comprises 15 million people. We understand that it is difficult to get exact demographic numbers, but among Iran's ethnic minority groups, Azerbaijani Turks are easily the largest. The population of Azerbaijani Turks in Iran has been placed between 27 million (claimed by Brenda Schaeffer) and 16 million in most sources. While we believe 16 million is too low, the 15 million data point found in your report significantly underestimates the seize of the Turk population.
Additionally, your reports states that "there are currently at least 82 Azerbaijani Turks arbitrarily detained in the Islamic Republic of Iran on national security-related charges." However, that figure, which appears to be from the Iran Prison Atlas, should be referring to "ethnic rights activists" only. According to the Iran Prison Atlas there are well over 100 Turk prisoners arbitrarily detained in Iran, when Turk journalists, street protestors, human rights defenders, pro-democracy activists and others are counted.
We understand the difficulty of gathering reports about Azerbaijani Turks and appreciate your efforts.
Best regards

Association for the human rights of the Azerbaijani people in Iran (AHRAZ)
Some resources regarding populations:
Shaffer, B. (2002). Borders and Brethren: Iran and the challenge of Azerbaijani identity. Cambridge, MA: MIT Press.
Grebennikov, M. (2013). The Puzzle of a Loyal Minority: Why Do Azeris Support the Iranian State? Middle East Journal, 67(1), 64-76. Retrieved from http://www.jstor.org/stable/23361693
Suleymani, S. (2018). Azerbaijani women in Iran: Oppresjon, Empowerment, Agency https://www.ahraz.org/azerbaijani-women-in-iran-oppression-empowerment-agency-master-thesis-sevil-suleymani/
Iran's Azerbaijan Question in Evolution: Identity, Society, and Regional Security- Emil Aslan Souleimanov and Josef Kraus
---
About Author